How it works
The world is a big place, with millions of miles of amazing roads to ride.
Cycle Coffee Society makes it easy for you to locate and ride the best ones, by selecting special locations for our CCS Houses – our bespoke luxury cycling-specific accommodations – each specifically tailored for the tastes and demands of discerning cyclists of all abilities; from bike-loving tourists looking for a little cycling holiday, to hardcore sportive riders looking to test their legs and even World Tour racers training for their next big race – CCS caters to all.
It's all about choice – Yours
The team here at Cycle Coffee Society knows that not everyone wants to ride the same location and same terrain, which is why we are busy building a chain of CCS Houses in the most iconic, beautiful, and respected cycling locations across Europe. Simply decide which CCS House best suits your needs and click to access all of the details you'll want to know. From the layout of the house to the special, unique add-on packages we offer.
How do I book?
Simply decide which CCS House best suits your needs and click to access all of the details you'll want to know. From the layout of the house to the special, unique add-on packages we offer. When you have decided click on book now and your stay with CCS will be a few clicks away. Of course you can always send us an inquiry by email.
Booking
Do I book the whole house?
Yes, we only rent out the whole house. If you would like to come alone, please have a look at our events and sign up. This way you are able to experience CCS on your own with other cycling addicts.
Cancellations
Bookings can be cancelled for a full refund up to 8 weeks prior to arrival. Cancellations within 4-8 weeks will be charged 25% of the reservation fee. After that only the cleaning and linen fees will be refunded. Dates may be changed subject to availability and difference in price.
Payment
How do I pay?
Payments can be done via bank transfer or creditcard. We will send you an invoice with all our payment details.
Why do I pay a deposit?
Accidents happen, but please tell us anyway… All damages and breakages should be reported to the CCS Team as soon as possible and will be deducted of  the €1500,- deposit. After your fabulous stay with us, we will transfer your deposit within 24 hours.
Your stay at Cycle Coffee Society
What time is check in and check out?
Check in is from 16.00 p.m. unless we have prior arrangements. You may check out at any time before 10 a.m..
Do I need to bring towels & bedlinen
We make sure everything is taken care of, so no need to bring these.
Do you have double or singel beds?
All of our bedrooms can be transformed into 2 singel beds or 1 double bed. Just let us know what you prefer, and we will make sure your bed is made the way you want.
Is the swimming pool heated?
Yes our swimming pools are heated. We know there's nothing better than a swim, after a long day in the saddle.
Is there a gym?
Our gyms our fully equipped with Technogym products to get you and your bike fit and ready to hit the road.
Is there a bike wash?
Yes, we love our bikes that much that sleeping with them is often in our thoughts, but we respectfully ask you to refrain from this activity. Please don't bring the bikes inside, except in the Gym. And if you want to clean your bike, use the allocated bike wash area's.
Is there a BBQ?
Is there anything more mouth-watering than the smell of food cooking on an outdoor grill? That is why every house has a BBQ.
Partnerships
Who are our partners?
We work closely together with our coffee partner Il Magistral Cycling Coffee Beans, Rocket Espresso, Technogym, Hyperice, Feedback Sports and many more.
Want to become a partner? Please contact Sophie via sophie@cyclecoffeesociety.com for your request.
Waiting list
What if my desired period is fully booked?
Please send an email, and we will add you to our waiting list. In case of any cancellations, we will make sure you are the first person who can book a stay at Cycle Coffee Society.
Coffee
Perfect coffee? It's all in the details…
Coffee is the staple liquid fuel for all cyclists. Cleaner than water, piping the vital caffeine direct to the bloodstream it was the taken by riders and racers as often as it was offered or available. This symbiotic relationship between cycling and coffee is the inspiration for Cycle Coffee Society.
Which coffee machines?
We're as fastidious about the quality of the equipment and ingredients we use to make our coffee, as we are about the equipment we use on our bikes. Which is why we only use Rocket Espresso machines. Besides our Rocket Espresso, every house has a Jura and Moccamaster coffee machine. Well, you wouldn't expect anything less from the Cycle Coffee Society!
Fresh beans?
Quality is everything when it comes to the raw product, the humble coffee bean. Which is why we always use specialty coffee roasters of Il Magistrale Cycling Coffee. They have selected a variety of beans from Africa, Central and South America.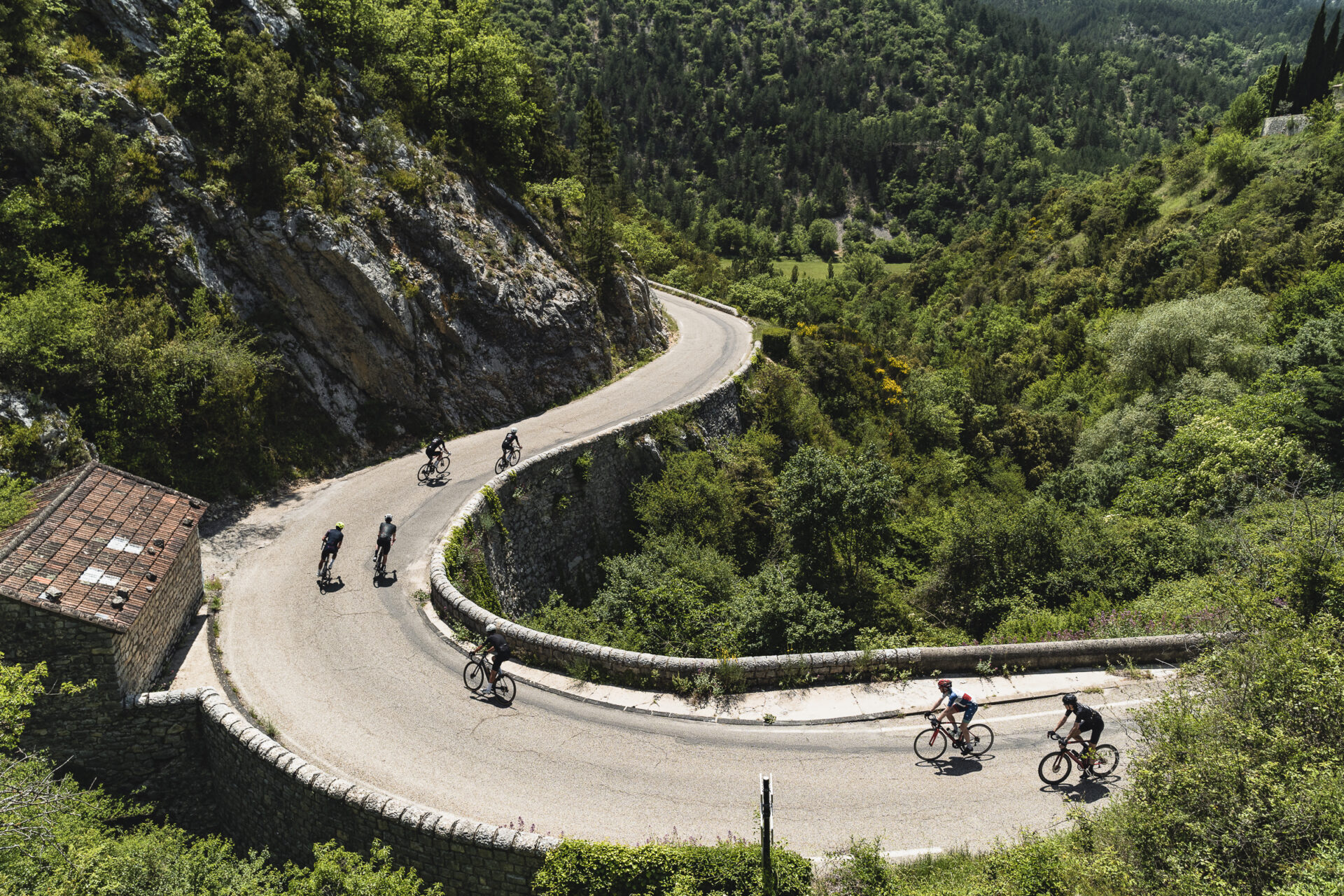 Sign up to our newsletter and stay tuned.
Join our community of bikers to receive monthly trip highlights, gear reviews, and the best news directly to your inbox.
Keep me posted